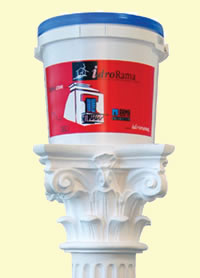 Idrorama:
Idrorama č un' idropittura lavabile plastificata a forte copertura che soddisfa le esigenze dell' hobbistica, per ideare pannelli figurativi della scuola e moderna decorazione.
Formulato con speciali emulsioni sintetiche e pigmenti selezionati, si applica a spatola, pennello, spruzzo e a rullo , resiste alle intemperie ed č ideato per lavori di decorazioni esterne.
Puņ essere applicato su pareti, carta e cartone, legno faesite, polostirolo ecc. Diluire con acqua 30/40% per 1 litro. se necessario e lavare gli attrezzi subito dopo l'uso.
Teme il gelo +5°C.
Prodotto non tossico.
Valore limite di COV ( Direttiva 2004/42/CE) per
I prodotti Idrorama ( cat. A/a):75g/L.;30 g/l ( 2010).
I prodotti Idrorama contengono al massimo 75 g/L. di COV
ENGLISH VERSION
Idrorama is a wasable water paint, with a big tiling power. It' very good to hobby time, and to craft everythings form of decorations.
Created with special form of emulsions and a selections of pigments, people can applique this water paint by paint-brusch, paint-roller and spray ; it's very resistent to inclemencies and it's very good for outdoor decorations works.
People can appliques this product on wall,on paper or cardboard, ecc.. This product must be attenuate with 30/40% of water for 1 lt. If you need, you must washing the working-kits after the work.
This product dread the cold +5°C
No toxical product
Limited value of COV ( Direttiva 2004/42/CE) for
Idrorama ( cat. A/a):75g/L.;30 g/l ( 2010).
Idrorama contains max 75 g/L. of COV
I PRODOTTI DELLA LINEA IDRORAMA SONO:
SUPER ACRIL LAVABILE